TxtAlert offers your guests, customers, clients, staff, or neighbors a MUCH more convenient way to communicate issues directly to the people that can deal with them immediately.
TxtAlert is a simple, efficient, effective, and affordable group text broadcast service. We provide a private 10-digit number (long code) that is assigned exclusively to you. Any text message sent to your long code can be routed to any combination of cell phones, emails, text capable tablets, or alpha numeric pagers.
Unlimited sending and receiving ability.
Add, remove or change any member of your group at any time through a secure web based interface.
Choose to have messages sent to the entire group, or select specific individuals in a group.
Provide a canned response to all received messages.
Text to join or be removed.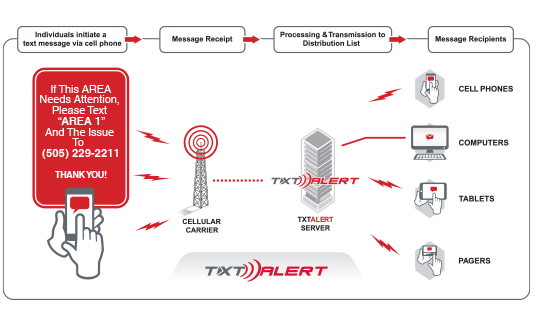 Direct Access, Keeps YOU in The Know!
SIGN-UP NOW
and START USING TXT
ALERT
TODAY or CALL 505.888.9999
Typical uses
---
Facility Maintenance Staff
Neighborhood Watch Groups
Clubs
Civic Organizations
Starting at just $30 per month.
minimum one year contract required.